Hoang Su Phi terraced fields, masterpieces of minority groups
When ripened rice turns terraced fields in Hoang Su Phi District into glossy gold carpets, tourists flock to the northwestern mountain region to admire the beauty of agriculture and nature and learn about the life and customs of the local ethnic people who create the terraced fields.
Terraced fields are a cultivation method used in mountainous areas, where there is little flat land for farming. Mountainsides are terraced and water from nearby springs.
Hoang Su Phi is a border district of Ha Giang Province populated by 12 ethnic groups, including the Tay, Nung, and Mong. They create the most beautiful terraced fields in Viet Nam.
It's impossible to say which ethnic group created the first terraced field, but the La Chi, one of the oldest groups in Ha Giang province, has ancient epics that mention terraced fields.
The La Chi used to live in the very high mountains. Then some people settled here in the lower mountains. Life was very difficult at first. We foraged in the forest for food. Then we started cultivating the fields. There wasn't enough level or gently sloping land for everybody, so we worked together to turn steep hillsides into terraced fields.
It took hundreds of years to cover the mountainsides with terraced. Hoang Su Phi's terraced fields were created hundreds of years ago. They are different from the terraced fields in other localities.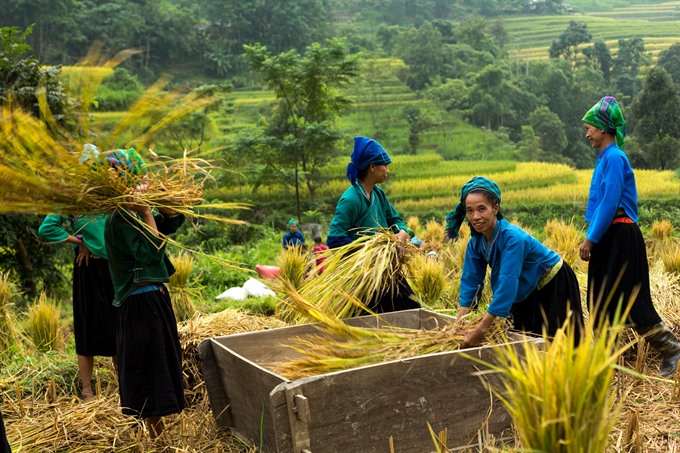 The many local cultural and religious ceremonies include the Crop Praying and Fire Jumping rituals of the Red Dao, the Going to the Field ritual of the Tay, the Forest Worship of the Nung, and the Pray for Seeds and Close the Warehouse ceremonies of the La Chi.
Terraced fields have helped ethnic people stabilize their lives. They give terraced fields to their children as dowries when they get married.