Hon Khoai Island
Location: Located in Ngoc Hien District, Ca Mau Province, about 15km from the mainland.
Characteristics: Hon Khoai is a group of five islands of Hon Khoai, Hon Sao, Hon Doi Moi, Hon Da Le, and Hon Tuong. Among them, Hon Khoai is the biggest island.
From Rach Goc Estuary, it takes tourists nearly two hours to reach the island by boat. On the way there, the tourists can see the vivid scenery of the blue sea, the yellow sunlight and the green mangrove forests from afar.

Formerly, Hon Khoai was called Giang Huong Island, Independence Island. However, the locals get used to calling it Hon Khoai (Potato Island) because it looks like the shape of a giant potato. An island is an ideal place for the tourists loving wild nature thanks to its rich source of fresh water and a diversity of flora and fauna with many valuable medicinal herbs such as multiflorous knotweed, fungus, cinnamon twig and animals like Varan, python, and squirrel.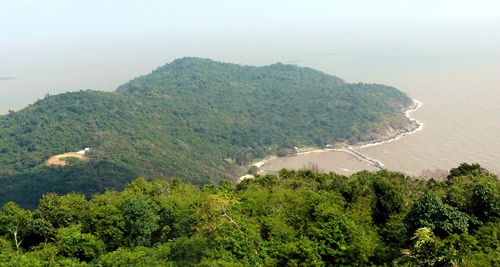 Located in the southwest of the island, Nho (Small) Beach is so shallow that the tourists can get ashore on a smaller boat. However, the beach is primitive and attractive thanks to luxuriant trees, limpid sea water, and tender waves. A lovely egg-stone beach lined with casuarina trees will please tourists on the right side of the beach. At the eastern side of the island, the tourists can pamper themselves in cool and clean water among sparkling waves of Lon (Big) Beach or just lie down on white sand to watch the faraway islands in the sunlight, fishing boats going up and down between waves. The scenery is like a luxurious resort.
The young tourists are eager to climb up the top of a mountain to visit a lighthouse through a zigzag path shadowed by many kinds of tropical trees such as ironwood, pine, jackfruit, and mango… Many wildflowers blossom in rock cavities. Moreover, they can also enjoy twitter voices of birds, the fragrance of magnolia spreading out the air and stop by small springs to mirror themselves on the limpid water. It is really a paradise.
Built-in 1920 by French colonists, the lighthouse on the Hon Khoai Island is at the altitude of 318m and its architecture remains intact. It is one of the earliest construction sites on the Vietnamese territorial waters. People in charge of the lighthouse are also willing to tell the tourists about the island, their daily life here, storms and even homesickness. They always serve as enthusiastic tour guides and introduce the tourists a stele next to the lighthouse to commemorate revolution in Hon Khoai Island. In 1940, under the leadership of the Communist Party, the locals and soldiers re-took the island from French colonists.

The tourists finished the trip with a dinner with braised fish, sour soup, boiled crab, and sticky rice alcohol. They will never forget the relaxing time with the beautiful scenery, friendly people on the island.