Northern Cao Bang province taps tourism potential
2018 was considered a successful year for Cao Bang's tourism sector, as the northern mountainous province welcomed a record 1.2 million tourists, a year-on-year rise of 30 percent.
The local tourism industry grossed 360 billion VND (15.5 million USD) in revenue, up 90 percent against the previous year.

In 2018, Non Nuoc Cao Bang received the global geopark status from UNESCO, while Ban Gioc waterfall tourism site was approved by Prime Minister Nguyen Xuan Phuc to become a national key tourist attraction.

Ban Gioc Waterfall

The historical relic of Dong Khe victory was also recognized as a national special relic site.

Located in the northeastern region of the country, Cao Bang is endowed with breathtaking natural scenery, including majestic mountain ranges and beautiful terraced fields.

It is also home to the unique cultures of eight ethnic minority groups, namely Tay, Nung, Mong, Dao, San Chi, Lo lo, Kinh and Hoa.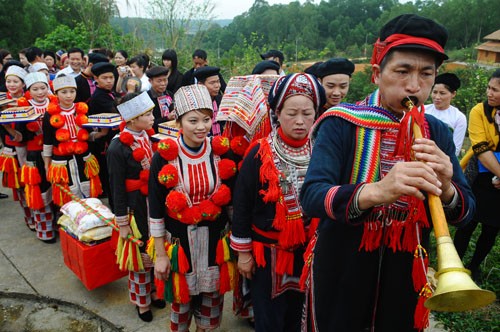 Dao ethnic
Tay ethnic

Cao Bang is home to 214 cultural and historical relic sites, encompassing three national special ones, namely Pac Bo, Tran Hung Dao, and Dong Khe.

It has a special geological structure with Non Nuoc Cao Bang recognized as a global geopark.

Non Nuoc Park was established in 2015. It is now the second UNESCO-recognised Global Geopark in Viet Nam after Dong Van Karst Plateau, which was accredited in 2010. The park is also the eighth of its kind in Southeast Asia to receive the status.
Nguom Ngao Cave
Located about 300km from Ha Noi, Non Nuoc Cao Bang covers more than 3,000 square kilometers in the districts of Ha Quang, Tra Linh, Quang Uyen, Trung Khanh, Ha Lang, and Phuc Hoa and part of Hoa An, Nguyen Binh and Thach An districts.

It is home to fossils, ocean sediment, volcanic rocks, minerals and karst landscapes, which can give researchers an insight into an over-500-million-year history of the Earth. It is also known for rich biodiversity and many indigenous fauna and flora species.